Kakasana ('kak' means crow) is another one of my favourite poses and is similar to bakasana. These two poses are the foundation of all the arm balance postures. When you get these two, many other arm balances even handstand start to fall in to place. Bakasana and Kakasana are very similar postures, often the names are used interchangeably. The only difference is that the elbows are STRAIGHT in Bakasana and BENT in Kakasana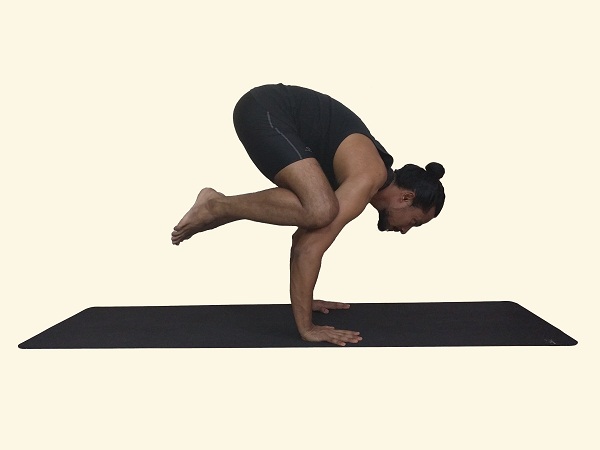 Steps for Kakasana (Crow pose)
1.Squat on the floor with feet hip width apart.
2.Place the hands flat on the floor in front of the feet with the fingers facing forward. Keep the fingers wide apart.
3. Bend the elbows outwards.
4. Rise on your toes lean forward and place the knee in such a way that the inside of the knee touches the outside of the upper arm as near as possible to the armpits.
5. Lean forward further transferring the body weight to the arms and lifting one feet after the other.
6. Bring the feet together. Hold the final position for as long as is comfortable.
7. Slowly lower the feet to the floor and relax.
Note :- Retain the breath in the final position if holding the pose for a short period. Breathe normally if holding for longer period. For a precautionary measure keep a pillow or some soft cushion in front of you, because there can be a tendency to fall on your face.
Benefits for Kakasana (Crow posture)
1.It helps in strengthening the wrists and arms.
2.It stretches the upper back and increases the flexibility and elasticity of the spine.
3.It strengthens and tones various muscles and organs in the abdominal region aiding in digestion.
4.The sense of balance, concentration, and co-ordination improves by practicing this posture regularly.
Precautions for Kakasana (Crow posture)
People who suffer from neck problems like spondilitis should always practice this asana under the guidance of a trained yoga expert.
Contraidications:
1. Pregnancy
2. Carpal tunnel syndrome
3. High blood pressure
4. Heart disease
5. Cerebral thrombosis