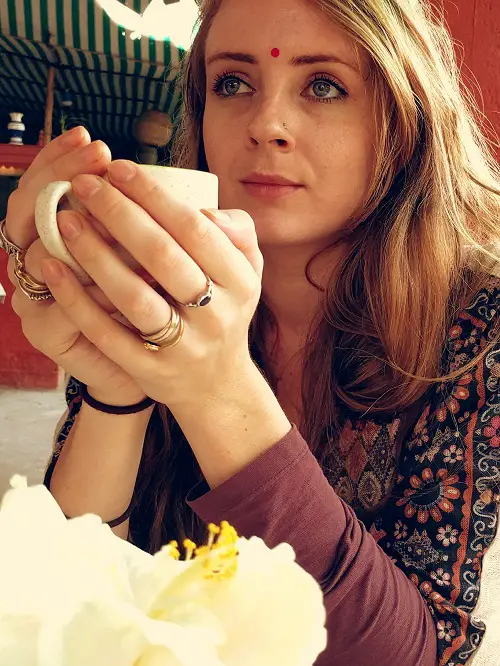 Searching
I was born in England, but have lived predominantly in India for the past 10 years. This amazing country has challenged just about all of my preconceived ideas about how things were or should be and showed me a whole world of study that I knew nothing about.
I knew from a young age that I wasn't going to carry on with the 'conventional way' of doing things, and it was in searching for an alternative, that I ended up here.
I wanted to find something that would make my soul sing! Where I could do something I love and share it with people. So I have used this time for deep research and study into the alternative healing techniques, which have turned out to be the very thing that fascinates me most.
Ayurvedic Study
I knew I wanted to further my study with a teacher, and I started at the Asho scientific institute of Ayurveda in 2013. I covered the basic principles of Ayurveda, how to bring the body into balance by making simple (not necessarily easy) dietary and lifestyle changes, along with Ayurvedic massage therapies. I then went on to study for three more months with the same teacher Dr. Shivani Sood, to go further into the diagnostic principles of Ayurveda, with an emphasis on nutrition and psychology.
Curiosity
While I was studying Ayurveda, my (now) husband Prashant, was doing his first teacher training in Hatha Yoga. He taught me what he was learning, and it really highlighted how the lack of stability in my mind was manifesting in my body.
I found it incredibly physically and emotionally challenging to hold any postures which required strength or balance, and at the same time, I was learning about the mind-body connection. It seemed that if I could build up physical strength my mental strength and confidence would follow.
With this improved awareness, and slowly gaining trust in my own abilities I decided I would like to learn more about the practice of yoga. I tried various classes and did a lot of reading before deciding to do a teacher training of my own.
Yoga Study
I trained in Ashtanga Vinyasa Yoga (led classes) at the Abhijna School of Yoga, with K.C.Mahesh in March 2014. It was challenging as I did not have a lot of experience before, but what I learned there sparked a real desire to know more, after seeing such a huge change and progression in myself.
Teaching
I started teaching shortly afterward in Bangalore giving corporate classes and specialized one-to-one therapeutic classes. This was a huge learning curve for me, as I grew in confidence from people telling me how I was positively impacting their lives.
I wanted to find out how to be the best teacher I could be, giving authentic and useful teaching to my students. This was a time of the most profound learning doing my own research and self-study. I learned to really understand how different minds and bodies work and how different people approach life.
More Study
After trying various drop-in-style classes, Prashant and I decided it was time to finally go to Mysore (the home of Ashtanga Vinyasa Yoga), I practiced daily for 6 months under the guidance of my teacher Ajay Kumar and completed his specialized teacher training in January 2015. This included an in-depth study of the Ashtanga Vinyasa system and how to safely adjust students of all abilities so that they can get the most from their practice. I also went further into learning Sanskrit chanting, and traditional texts.
Wake up call
I stopped my practice altogether for a while in the summer of 2015 after a bad bicycle accident left me needing surgery on my shoulder. It took me months to persuade myself to come back to the practice, and to face having to build myself back up from the beginning. I had to drop all ego of any level that I had attained and go back to very basic strengthening (which was what I had always struggled with anyway).
One of the things that motivated me and inspired me to keep going was the teaching opportunities I had during this time. I found I could approach the difficulties students were having from a different level to the point where I could bring much more to them.
I taught a variety of private and group classes, and immersive yoga retreats covering chanting and meditation along with asana practice.
I love getting to know every student with their own stories, struggles, and reasons for being there. I always try to find out about them so we can work together on a personal level, and the experience can be adapted to their specific needs.
Writing
It was during this time in 2016, that Prashant and I decided to start writing a Yoga teacher training manual. The plan was to summarise the key elements of what we had learned in a simple format, covering many different areas of yoga. In doing so we aimed to clarify our own understanding and highlight any areas that we needed to study and practice more. While our research is still ongoing, our manual is being successfully used in 5 different Yoga schools at the moment.
Mysore
Back to Mysore in 2017. We came at the end of December 2016 for four months so we could spend time writing and studying. I wanted to work on regaining strength in my physical practice, but also to learn more of the traditional texts. It is here where not only the classes I attend but the 'unofficial teaching' comes in, the joy of sharing knowledge and understanding with the other students, and finding new perspectives to view the world from. I have been lucky enough to Practice Ashtanga Vinyasa yoga again with Ajay Kumar, and also with M.V. Chidananda.
Gratitude
I have been very fortunate with the opportunities I have had, and all of the teachers (official and unofficial) that have come into my path. I have been supported from all directions along this seemingly unusual route, and to all of these people, I am truly grateful. I look forward to sharing this wisdom with many more people and continuing to grow in myself, but for now, I will just enjoy whatever this crazy experience called life decides to bring my way.
Whether you experience heaven or hell, remember that it is your mind which creates them. Avoid grasping the one or fleeing the other. Avoid imposing the ego's game on the experience. -George Gamow