Eka = One, Pad = Foot or Leg , Bak = Crane.
This is an advanced pose can only be done once you have mastered Bakasana, it requires a lot of balance and practice.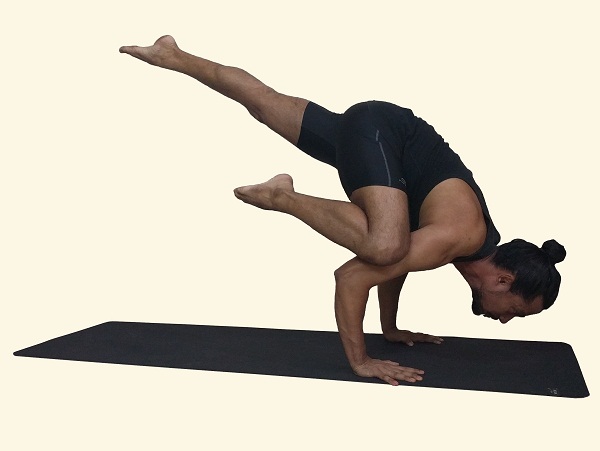 Steps
Come into Bakasana.
Once you're stable in your Bakasana, squeeze your right knee in closer toward your midline and engage your feet by pointing your big toe actively back.
Shifting more weight on the left arm move your right leg off your right arm,  drawing your right knee in towards your torso. Once you feel stable with your right knee bent off your right arm, then, keeping hugging in toward the midline as you extend your right leg back.
Hold for as long as you can, initially it will be for a few seconds, slowly build up. Come back down to the squatting position.
Benefits
Strengthens the core muscles
Strengthens wrists, arms, back, shoulders
It is an asymmetrical posture requires a lot of strength, so it improves the coordination of all the muscle.
Contraindications/ Precautions
Spine injury
Wrist injury
Look for other postures in our asana directory
By continuing to use the site, you agree to the use of cookies. more information
The cookie settings on this website are set to "allow cookies" to give you the best browsing experience possible. If you continue to use this website without changing your cookie settings or you click "Accept" below then you are consenting to this.